A group in Nepal will likely extort money from you while trekking. They are called the Maoists. By demanding your money, they are hurting tourism in Nepal as more people, fearful of this group, stay away from this wonderful country. If confronted, you can try to negotiate or bargain the rate down but DO NOT refuse to pay. Trekkers who refused to pay have been roughed up and/or turned around. It is just not worth it. You should factor in extortion fees into your trekking budget. You should be issued a receipt when you pay. Keep this in a safe place otherwise you might have to pay again.
When we were trekking in the Annapurna region, we encountered the Maoists at two locations: Near Chamje and again on our exit at Birethanti. They wanted 100 Rupees ($2.75 USD) per person per day. From the receipt above you can see that we paid 2,400 Rupees (about $65 USD) for two people to trek for 12 days. We were able to reduce the bill by telling them that we were only going to Jomsom and then flying back to Kathmandu from there (hence only 12 days). In fact, we were in the region for 26 days (it would have cost us almost $150 US!).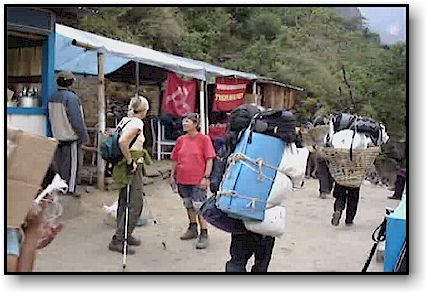 Maoist checkpoint near Chamje
The people collecting the money at the checkpoint above were very well dressed and had such luxuries as a new radio. We believe the money is ending out in the pockets of a select few. Without intervention by the government, this practice will continue.
On day 26 when we left the trail at Birethanti, we saw a Maoist extortion booth ahead and gave the receipt to our guide. He stepped up to the booth and got into a discussion with the Maoists while we continued on down the trail (I didn't think we could walk that fast!). When they saw the dates (12 days only) on our receipt, they were not too happy. They wanted another big chunk of change but we were nowhere to be seen and our guide simply told them "I am Nepali, I don't have this money and my people are gone". So they let him go and we hooked up with him again about 1 Km past the booth. He didn't tell us much but it looked like he was verbally harrassed big time.
About the Maoists
The Maoist movement started in about 1996 in the central western districts of Rolpa and Rukum. They were a breakaway faction of Nepal's established communist party. Their stated goals were to end the monarchy, secularize the country, write a new constitution and establish a communist state. For the first six years they fought authorities in mostly remote regions of Nepal but with The Royal Massacre in June of 2001, the suspicion and confusion helped them take control of more of the country. By 2005, led by Pushpa Kamal Dahal who has taken the name "Prachanda" (meaning "the fierce one"), they had control or partial control of 20 of Nepal's 75 districts. Stories have emerged of the Maoists brutality: They have tortured government supporters, destroyed the livelihood of those who refused to support them, beheaded prisoners and extorted money from businesses, schools, workers and tourists. They have forced families to give up sons and daughters as recruits and used them as messengers and porters. The truly unfortunate might have their noses, tongues or limbs cut off, their eyes gouged out or holes drilled in their legs. They do seem to be smart enough not to hurt the "golden goose" and have not killed any tourists. In September of 2005, the Maoists announced a ceasefire and in November of 2006, a treaty was signed between the Maoist leaders and the government of Nepal. Collecting the free money from tourists was supposed to stop but it will be a hard "job" to quit. As of January 2007, the Maoists were still hitting up the trekkers. There seems also to be a growing number of theives who pose as Maoists in order to rip people off. They are usually located near the roads where they can make a quick buck and a quick getaway. 2011 - We hear that these extortion payments are no longer demanded. You can disregard this information if you are going trekking.
Avoiding the Maoists
We have heard that the Maoists close up shop in the winter so if you are trekking in December - February, you might be lucky. If you know where they are set up, pass by their booth in darkness. We believe that they do not man the checkpoints after dark. We were only stopped by Maoists at the beginning and end of the trek so they seem to be near the roads. If you do get checked deeper in, you should pretend that you lost your receipt then bargain like crazy for a reduced rate. Nepali people do not have to pay this tax. One friend of ours spoke fluent Nepali and although he was an American was allowed to "pay what he could afford". He donated 300 Rupees for his whole time trekking.